Compounders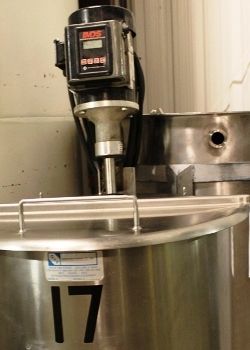 Description:
Prepare product mix for production run and carefully follow procedures to complete the batching process.
Duties:
Following ingredient statement prior to production run.

Following compounding procedures when mixing batches.

Running samples of raw materials before production run to the lab for testing.

Running oil and mix from compounding to filling area.

Cleaning all run tanks and mix tanks and flush lines.

Removing waste from filling room.

Cleaning compounding area.

Complying with standards of the current level of SQF 2000 Systems for general food processing and training in all required food safety programs.

Job Requirements:
Must be a self starter, motivated, resourceful individual. Ability to read and understand work instructions. Ability to bend, kneel, balance, reach, stand, push, pull and lift. Ability to move the wrist, hands and fingers. Able to lift 50 pounds. Able to climb stairs and/or production stairways.
Required Education Level:
High School diploma or GED helpful.

Prior compounding experience helpful.

Benefits:
Full-Fill Industries, LLC offers a competitive salary and benefit package with a pleasing work environment.
Hours/Days/Shift:
Monday through Friday with flexibility of Saturday work if needed. First and second shift flexibility.
Full-Fill Industries, LLC is an Equal Opportunity Employer.