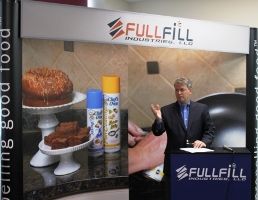 Company to double in size, add 150 jobs
HENNING, IL – A new contract with one of the food industry's largest companies will double the size of a central Illinois manufacturer and create approximately 150 new jobs.
Full-Fill Industries LLC, a family-owned company that manufactures aerosol cooking sprays for the retail and foodservice markets, has entered into a strategic contract manufacturing agreement with ConAgra Foods®. The agreement means Full-Fill Industries LLC will manufacture ConAgra Foods® cooking sprays, including the brand leader PAM®.
"ConAgra Foods® officials approached us to see if we were interested in becoming their supplier for their PAM® product and other private label cooking spray business," said David L. Clapp, President and CEO of Full-Fill Industries LLC. David Clapp at press conference
Clapp said he believes Full-Fill's past performance, the management team's extensive knowledge of aerosol manufacturing and the plant's proximity to suppliers and distribution routes made the Henning, Illinois company attractive to ConAgra Foods®.
To accommodate the increased volume of business, Full-Fill Industries LLC will construct three new high-speed production lines in 25,000 square feet of new manufacturing space. The company also will build a 108,000-square-foot warehouse and distribution building, which will include eight new docks, and additional bulk tank storage for edible oils.
The company will add approximately 150 full-time employees — including management, administrative and production positions as the business transitions to the Henning plant in the next 12 to 18 months. Full-Fill LLC currently employees 94 full-time employees over two shifts.
"Even though we are expanding, we want to maintain our culture and our commitment to excellence," Clapp said.
Clapp also credited Vermilion Advantage and President and CEO Vicki Haugen for "her tireless effort to bring this project to fruition." Also, he said First Midwest Bank, the Illinois Department of Commerce and Economic Opportunity, the Illinois Department of Transportation, the Vermilion County Highway Department and Village of Henning were instrumental in the process.
Full-Fill Industries LLC, founded in 1999, has become a leader in food aerosol manufacturing. In addition to other major national brands such as Crisco®, Pillsbury® and Mazola®, the majority of the sprays packaged in the plant feature private labels and are sold in major retail grocery chains across the country and internationally.
The company is owned and managed by the Clapp Family of Danville, Illinois. The management team has a collective 115 years of experience in aerosol product manufacturing.