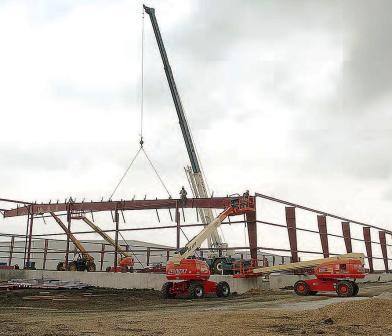 The Danville (Illinois) Commercial-News
HENNING, IL -- Construction is heavily under way on a major expansion at a Vermilion County factory.
Full-Fill Industries, LLC in Henning is growing and will be offering 150 jobs there at the beginning of 2012.
The development was secured by a new contract with ConAgra Foods to produce all its cooking sprays, which have been made at the ConAgra plant in nearby Rossville. While the Rossville plant will close, the vast majority of jobs will be able to be retained not just in Illinois, but here within Vermilion County.
Full-Fill officials have said that ConAgra approached them about negotiating a manufacturing agreement, but they were never involved in the Click here to visit our Expansion Project section
decision to close ConAgra's plant.
With the late April announcement of the successful long-term agreement to produce more than 200 new brands of cooking spray for ConAgra that includes brand leader PAM, construction soon began at Full-Fill.
The plant is now transitioning from three cooking spray lines to six, all in 25,000 square feet of new manufacturing space. They're also adding 108,000 square feet of warehouse space with eight loading docks and capacity for 150,000 gallons of bulk oil storage.
President and CEO David L. Clapp said work is progressing quickly with concrete foundation and flooring finished on the warehouse and work already starting on the steel structure. All of the equipment for the building has been ordered and is expected to arrive mid-September with building construction planned to be done by the end of November.
The expansion comes with a price, which Clapp said is now estimated at $14.5 million. Construction for all on-site expansion is being funded by the company.
Other improvements are coming with the expansion as well, and will be shared with the community.
An upgrade of Main Street through Henning is in the works with the help of a Community Development Assistance Program grant facilitated by Vermilion Advantage and also Economic Development Program funds through the Illinois Department of Transportation that was applied for by the Vermilion County Highway Department. The road project will cost around $1.2 million.
Clapp said roadwork should start sometime in 2012 and includes a widening of three feet on both sides, bringing it up to industrial grading, replacing curbing, gutters, sidewalks and storm drainage.
"The road itself was in dire need of repair," Clapp said, adding that with more truck traffic from the plant expected it made sense to make the fix.
Another improvement for the plant that will help the community at large is a 2-acre fire pond being installed for the facility's sprinkler system. The Bismarck-Henning fire district will benefit from the new water source in this area that has lacked for available water in fire situations in the past.
"We're placing an additional fire hydrant out by the road and they'll be able to access that," Clapp said.
A new initiative the company is launching is the "Propelling Our Community" program. Clapp said it is something new they are working on that would be a foundation where Danville and Vermilion County schools, programs and organizations working on projects could apply for and then go through a process to obtain funds from the new establishment.
Other state incentives that became available because of the expansion were through the Illinois Department of Commerce and Economic Opportunity.
Some tax credits and job training funds have been opened to Full-Fill because of their investment, but as Clapp noted, they only acquire the Employer Training Investment Program grants once the jobs are created.
Those new jobs include management, production and administrative positions, which will bring the total workforce at Full-Fill to around 244 employees, from the current 94. Examples of titles of positions they'll be hiring for include maintenance mechanics, production line workers, accounting clerks, production supervisors and quality technical control personnel.
Clapp said the line installation is expected in January 2012, the same time they plan to begin hiring for the new positions.
New product should start rolling out of the factory in April or May 2012, sometime after line qualifications from ConAgra are met. Once they are at full production with the ConAgra contract, Full-Fill will have gone from producing 38 million units (aerosol cans) to 180 million units.
Now in its 11th year of business, Clapp said his family never imagined the company would grow this big.
"It's really a dream come true," Clapp said. "It's a once in a lifetime opportunity."
The contract with ConAgra makes Full-Fill the major supplier of cooking sprays to the market. Full-Fill already was the leading provider of private brand aerosol products, including ones for
Emeril Lagasse and also does many for individual grocery stores and food service companies such as Aldi, Kroger and Sam's Club. Crisco Pan Release, Mazola Pure and Pillsbury Easy Frost icing are just some of the products they currently produce.
The company began with just a handful of Clapp family members in 1999 and continues to be wholly owned by them.
The aerosol business was a logical move for the family when they were looking to start a business at the turn of the new century. David Clapp's father, Charles Henry Clapp, started Clapp Industries Corp. in Potomac in 1982.
That later became part of Creative Products Inc. of Rossville and was sold to International Home Foods in 1997, which was purchased by ConAgra.
Charles Henry Clapp continues with the company as senior vice president of laboratory services/research and development.
David Clapp said the environment is energy-filled right now at Full-Fill Industries.
"There's a lot of excitement here now and a lot of activity and work going on," Clapp said.